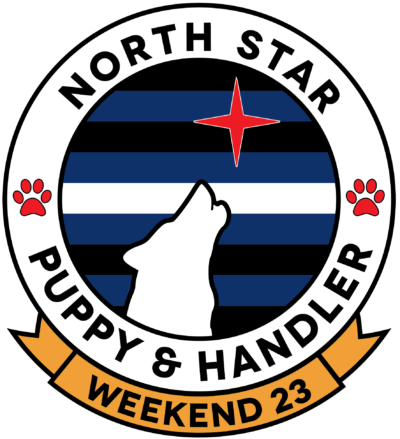 2023
North Star Puppy & Handler Contest Rules
The North Star Puppy & Handler Contest ("NSPAH") does not discriminate in any manner on the basis of race, color, gender identity, sexual orientation, age, religion, disability, veteran's status or national origin.
Contestants must be at least twenty-one (21) years of age at the time of the event.
All Contestants will provide a State ID, Driver's License, or Passport, when signing all contest documentation at the start of the contest weekend.
Contestants are permitted one (1) Backstage Assistant to assist in wardrobe changes during the contest. Contestants must provide the name of their Assistant to the Producers ahead of time to ensure they receive a staff ID badge.
During all public aspects of the NSPAH contest, Contestants and their Assistants will wear street legal attire as determined by Minneapolis city ordinances. All Contestants must have front genitals covered and buttocks must be covered by a one-inch strap or hankie.
Illegal drug use is prohibited.
Contestants are encouraged to get to know the Judges and interact with them. However, contestants shall be prohibited from having private meetings or engaging in any sexual activity or play scene with the Judges prior to the announcement of the contest results. To avoid accidental violation of this policy and being disqualified from competing, all Contestants and Judges must display their ID badges at all times.
Contestants shall not attempt to sway the Judges through gifts, meals, favors, or any other kind of items or acts that could be seen as bribery.
NSPAH does not require gear or equipment of any form in order to compete in any part of the contest with exception of gear/equipment that may be deemed as safety equipment by its Producers or their staff.
NSPAH will require a minimum of 2 Contestants in either category (Puppy or Handler) for that category to be contended during the contest weekend. NSPAH will limit the total number of Contestants to a maximum of 12. If there is only one (1) Contestant in either category (Puppy or Handler), no contest will be held in that category.
All Contestants will participate in all categories of the contest, as outlined under the Scoring Guidelines.
All Contestants will participate in the following judged categories:

Interview
Dog Show Presentation
Pup Up Question
Lifestyle Image

After these portions, Contestant scores will be tallied with a minimum of 2 Contestants in each category and a maximum of 6 total Contestants moving to the Final Round.
In the Final Round, all remaining Contestants will participate in the following judged categories:

Speech – 2 minute time limit
Playful Presentation – 5 minute time limit

After these portions, contestant scores will be tallied across all weekend categories. The Puppy and the Handler with the highest total score in their respective category will be declared the winner – provided that Contestant's total points are at least 70% of the total points available.
The Producers reserve the right to amend these rules as necessary. If this occurs, all parties involved will be notified.