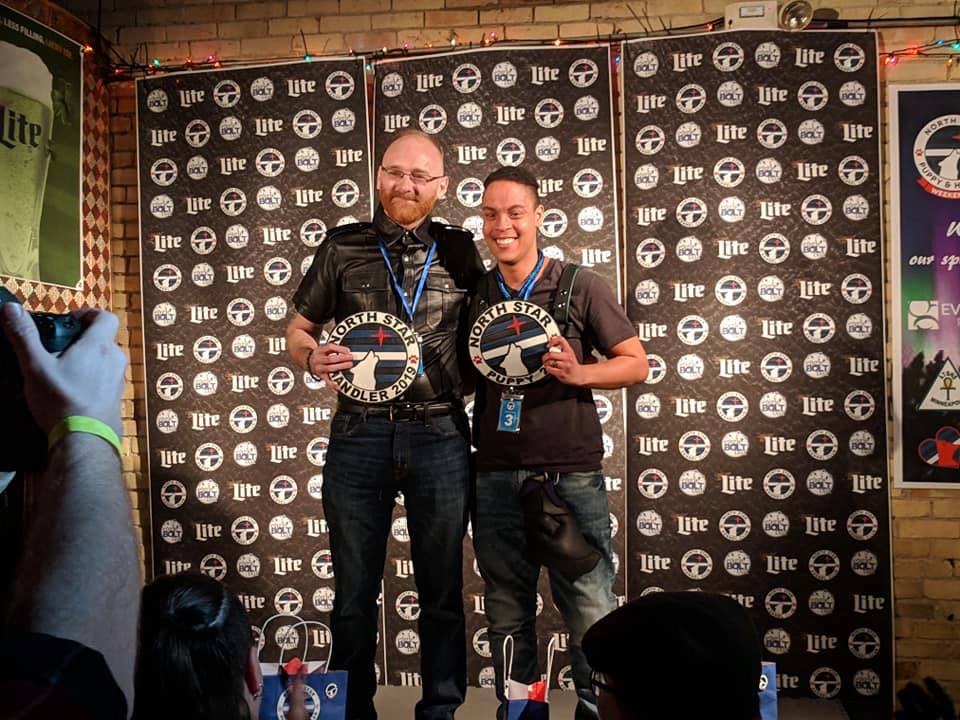 2019 North Star Handler Daddy Nick and 2019 North Star Puppy Pup Whiskey
The North Star Kennel Club hosted the first-ever North Star Puppy and Handler Contests over the weekend of March 8-10, 2019. The contest started with a Meet and Greet at the eagleBOLT bar on Friday, March 8. Five contestants were introduced to the crowd:
two Handler contestants – Daddy Nick and Alpha Pup Executioner
three Puppy contestants – Pup Winter, Pup Tatsu, and Pup Whiskey
The contestants helped sell jello shots to raise funds for the winners' travel funds.  The crowd also met the judges for the weekend's contests:
Jinx
Vincent
Sir Ivan
Coleman
Pup Dodger
Pup Kona
Saturday, March 9 started with interviews in the morning at the eagleBOLT bar, followed by Dog Show Presentations in the afternoon at The Saloon. The presentations were followed by a mosh, which was well-attended.
The contests returned to the eagleBOLT for a snowy Saturday evening of "pup-up" questions, speeches, and "playful presentations". At the end of the evening, Pup Whiskey and Daddy Nick were announced as the first-ever North Star Puppy and North Star Handler. A victory brunch in their honor was held on Sunday, March 10 at the eagleBOLT.
Congratulations to everyone who put themselves forward for the competition. A special thanks to our judges and those of you who came out over the weekend, especially on Saturday during the snowstorm!